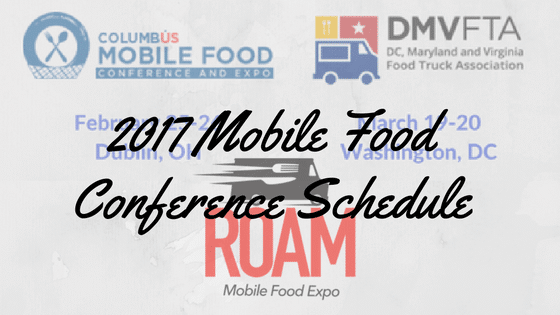 **UPDATED 2/2/17**
2017 is shaping up to be a great year to attend a mobile food conference!  Three different states are hosting expos this year. Joel will be speaking at ROAM and the Columbus Mobile Food Conference.  He will also be on the panel for insurance, trademarks and employment law at the Capital City Convention.
Columbus Mobile Food Conference and Expo
Taking place February 25-26, The Columbus Mobile Food Truck Conference and Expo is back with new topics and more exhibitors. The conference will have over 20 workshops and seminars including an opportunity to attend a separate Food Manager certification course and exam.  The conference will also include some non-food related seminars covering topics such as "Mobile Boutiques".
Capital City Food Truck Convention
Taking place June 3-4 (NEW DATE!), The Capital City Food Truck Convention is unlike any other conference and trade show in the food, beverage and hospitality industries. This conference gathers together under one roof the industry's brightest chefs, entrepreneurs, innovators, and leaders for two days of education, professional development and networking. The convention features workshops for aspiring and current mobile entrepreneurs, event and meeting planners and local government agencies who license and permit food trucks.
ROAM Mobile Food Expo
Taking place October 6-7, Roam Mobile Food Conference is the premier industry event for all things mobile food vending. From food trucks to carts to kiosks, and beyond, ROAM is the first of its kind serving North America's mobile vending professionals. The perfect event to attend if you own or want to start your own food truck! You will learn about best practices, innovations and trends in mobile vending technology and operations. Also, grow your network with fellow professionals. Suppliers are located in the conference exhibit area to support your growing business!