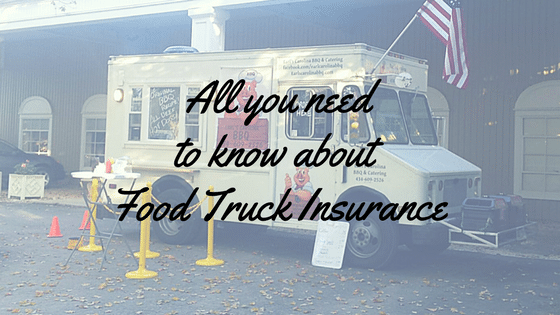 Confused by the complexities of food truck insurance coverage and not sure what exactly you need? We get it. It can be confusing, so we're going to break down the different types of coverage for you using understandable language (and not insurance-gibberish).
First, take a look at the visual cheat sheet we've created. Below that, we'll get into the specifics of each type of insurance to give you a well-rounded understanding of your specific needs and insurance options.

Save this graphic and keep it handy so you always know what you have covered and what you don't. Now, let's go a little deeper into these food truck insurance coverage types.

General Liability Insurance
Whether you're after bare bones protection or a full suit of armor around your business, this coverage type is a must.
General liability acts as protection against lawsuits brought against you. It covers your products (food and drinks), your premise (slip and fall), personal injury (including libel and slander), and property damage to others.
Keep in mind that this type of insurance covers damages to others, but it does not cover you, your employees being injured, or damage to your own vehicle. Nor does this coverage effective for accidents that occur while you're driving.
A few specific instances where general liability covers damages:
A customer gets sick from your food

A customer slips and falls on a mat you placed outside

Another business accuses you of libel or advertising injury

Your patio cover falls and breaks another truck's window

All the legal fees associated with the incident (even frivolous claims where you are not at fault)
The common coverage limit is $1,000,000 per occurrence and $2,000,000 total per year.
Most landlords, vendors, and commissary kitchens require general liability, so you should plan on including it in your policy.

Property insurance coverage for your truck and the attached equipment
Don't let the countless hours you invested into your food truck go to waste with a single driving mistake or a severe stroke of the weather. Food truck coverage protects your truck and all its attached equipment in the event of a collision, vandalization, theft, flood, fire, and a few other types of losses.
Remember that "attached equipment" specifically refers to items that are attached via bolt, plumbing, or gas line. Plates, pans, rolling carts, food, and anything else that's not securely bolted down is not covered by this coverage. For those items make sure you get contents coverage (listed below) as well.

Coverage for items NOT attached to your Food Truck
Contents coverage is for all the things that are not bolted down or attached via plumbing or gas line, but are still a part of your food truck business. Your cooking utensils, your chairs, and even your POS system fall into this category.
Auto Liability
Your greatest liability risk as a food truck owner is not the food you serve, but the truck you drive. Food-related claims are uncommon, but driving mistakes on the road happen all the time.
Auto liability insurance covers injury or property damage to others while you are driving, and only when you are driving. Once you are parked and open for business, your general liability coverage takes over.

Workers Comp
Worker's compensation insurance (commonly known as "worker's comp") covers you when your employees are injured while on the job. With this type of coverage, injured employees will have access to wage replacement pay and medical benefits.
Most states require you to carry worker's comp insurance by law, but a few leave it optional. If you're not sure what the law says in your state, The National Federation of Independent Business offers a state by state list of workers comp requirements.

Additional Coverages
There are a variety of coverage "add-ons" available to suit your specific needs. Let's take a look at a few of the more common add-ons.
Umbrella insurance

– Worried a claim cost may exceed the basic limits of your coverage? This add-on extends the financial benefit to cover large claims and is often required by large contracts.
Food spoilage insurance

– Serve a certain type of food that tends to spoil quickly? This insurance will keep it from eating into your bottom line.
Loss of business income insurance

– If you suffer a collision and have to get your truck repaired or replaced, the lost income over days or weeks can end up being thousands of dollars. This coverage type compensates you for that lost income and is, in our minds, one of the best additional coverages.
There's a whole slew of add-ons, so if you have any uncommon truck features or business practices, let us know and we'll find the right coverage.
About Insure My Food
Insure My Food provides insurance coverage for an array of mobile food vendors such as food trucks, food trailers, concession trailers, pop, vendors, concessionaires, snow cone stands, and more. Our goal is to help you protect your business with insurance that fits your specific needs so that you can focus on the aspects of your business that matter most.
We have over a decade of insurance experience and a deep understanding of the often complex (and ever-changing) mobile food industry. We also partner with several different insurance carriers to make sure your food truck process is affordable and easy.
Want an insurance quote? Click here or give us a call at (800) 985-7859.