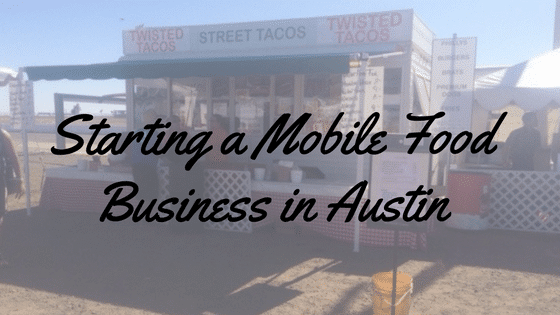 So you've decided that you are going to open up a food trailer or food truck, congratulations! We have created a basic outline to help you with the necessary steps needed to open up your business. Although the outline is intended specifically for mobile food vendors in Austin, TX, the process and regulations are often similar in different cities and states.
Step 1: Filing a Limited Liability Company For Your Food Trailer
It is very common for food service businesses to form an LLC. You can find out more info
here
.
Step 2: Texas Sales and Use Tax Permit
Before you can receive your Mobile Food Vendor Permit you will need to have a Texas Sales and Use Tax Permit. You can find out more information
here
.
Step 3: Join The Austin Food Trailer Chamber Google Group
This is a free and open email group that a few industry heavy hitters in Austin (Trish from
Capital Kitchen
, Case from
Trucklandia
, Phyllis from
Cheesecake experience
, and I) started. There are currently over 200 trailer owners in the group. You can ask questions, post answers, and tips for others or can search the archives. Send an email to be added to the group or join the
Facebook Group Online
.
Step 4: Buying a Food Trailer or Food Truck
Although you may be able to find good deals on Craigslist for used food trailers or food trucks, there are also many great food trailers and food truck builders in Texas. One benefit of buying a newly manufactured food trailer is that the builders are usually knowledgeable about what is required to pass a City of Austin Health and Fire Inspection. You will also have the peace of mind knowing that all of your equipment is new and not damaged or aging. Here are a few local builders to consider:
Smokin Joe's Trailers
Sanchez Trailers
Custom Made Trailers
Step 5: Buying Insurance for Your Food Trailer or Food Truck
We recommend purchasing $1,000,000 worth of liability insurance and property coverage on your food trailer or food truck as soon as you purchase so that you are immediately protected from accidents or theft. With a food truck, you will also need commercial auto insurance before you drive the truck on public roads. We can help here! 
Get a quote for your food trailer or truck
TIP:
Many landlords require you to have $1,000,000 worth of general liability insurance before they will let you sell food on their property.
Step 6: Registering Your Food Trailer or Food Truck with the DMV
Before you can apply for an Application for Mobile Food Vendor Permit, you will need to register your trailer with the Texas Department of Motor Vehicles
here.
Step 7: Get Your Food Managers Certification For Your Food Truck
In order to pass your health inspection, you will need your Food Managers Certification displayed inside of your food trailer. You can find out more information and testing options
here
.
TIP:
We suggest paying a bit extra to have your Food Managers Certification stay valid for
5 years
because the class takes a full workday day to complete.
Step 8: Get The Application For Your Mobile Food Vendor Permit
This is the
application packet
that you will need to submit to the Health Department before they will inspect your food trailer or food truck and issue you a Mobile Food Vendor Permit.
TIP:
The Health Department has a
How To Start A Mobile Food Business Guide
 and a
resource webpage for mobile food vendors.
TIP:
 All applications must be walked-in to 1520 Rutherford Lane, Austin, TX 78754 only on Tuesdays and Thursdays from 7:45am-11am. After the application is approved then a physical mobile unit inspection is scheduled.
(During COVID the city has changed to by appointment only) 
If you have questions call Health Department at (512) 978-0300 or visiting at (1520 Rutherford LN, NE corner of Rutherford LN @ Cameron RD, Building 1 East Entrance).
Finding A Central Prep Facility
In order to complete page 2 and 3 of the Application for Mobile Food Vendor Permit you must find a Central Prep Facility to use. Many food trailers and food trucks use their CPF strictly to dump grey water, get fresh water, and dump grease.
Here are some local CPFs in Austin
Capital Kitchens
Just Add Chef
Hudson Bend Commercial Kitchen
Manon's Shared Kitchen
TIP:
By using a CPF that specializes as a commercial kitchen to many different food businesses, the Sanitarian will be acquainted with the facilities, which will likely speed up the application process.
City of Austin Restroom Facility Agreement
In order to complete page 5 of the Application for Mobile Food Vendor Permit, you will need permission to use a restroom within 150 feet from the location of your food trailer.
Passing Your Fire Inspection
AAA Fire & Safety Equipment
Longhorn Fire and Safety
Ace Fire Equipment
Please refer to the Application for Mobile Food Vendor Permit for more details about the fire inspection. We suggest calling the Austin Fire Department at (512) 974-0160 if you have any questions regarding the safety of your food trailer because the requirements listed in the packet are not exhaustive.
Step 9: Finding a Location for Your Food Trailer
Congratulations on passing your inspection! Finding the right location for your food trailer will be one of the most important decisions you will make. Make sure that you understand the rules and regulations regarding certain neighborhoods.
This map
shows areas of the City of Austin that have adopted additional ordinances. Ordinances may affect your hours of operation or proximity to certain structures. Find out more info here:
Mobile Food Establishments Codes
TIP:
 Don't be shy about asking other food trailer owners questions about their food park. They will often be happy to share advice with you and give you the "inside scoop" about their location! Or join the Austin Food Trailer Chamber and ask around there (It's free!)
Send us an email
to add you to the Google group.
Insure My Food was designed by an insurance agency that gets food trailers and food trucks
We understand the challenges and needs of your business and are committed to supporting the mobile food community. Not only do we offer food trailer and food truck insurance in almost every state, we insure many types of mobile food vendors including concession trailers, food carts, pop-up vendors, street vendors, food stands, and catering trailers.
Contact Us
for a free, no obligation quote or if you have any further questions.  From our small business to yours, we're here to help you succeed!