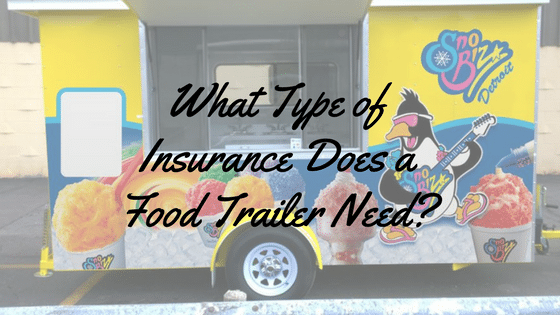 We get the question asked every day…What level of food trailer insurance coverage do I need?
Listen, we know food trailer insurance can sometimes be confusing, this is such a unique industry! You want to find a great price, but also make sure you are covered! We created this to help you visually understand what food trailer insurance you need in order to protect your business. Nobody has ever regretted reviewing their coverage levels when preparing for a possible claim. It is important to put the time into learning about food trailer insurance before it's too late!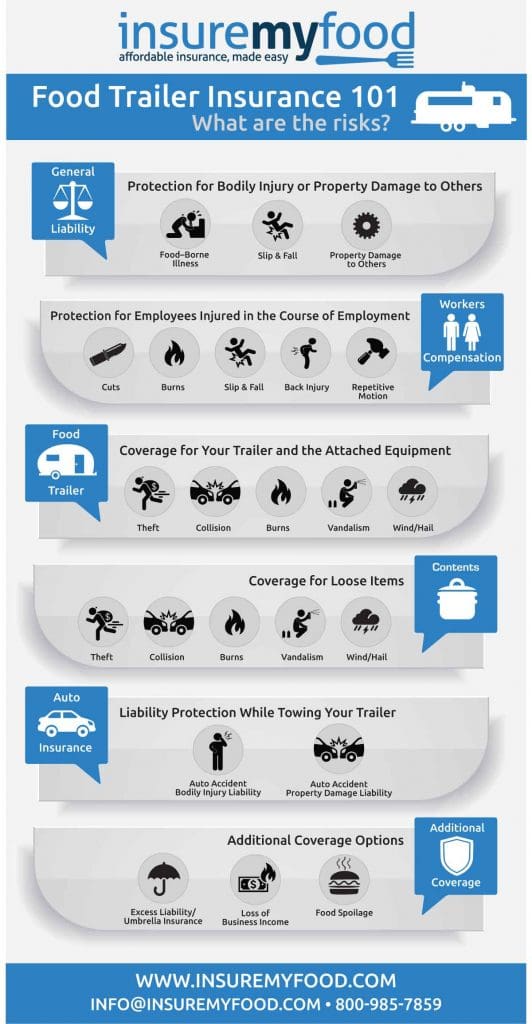 General Liability Insurance
General liability protects you from lawsuits brought against you for injury or property damage to third parties. It does not cover auto related or employee injuries, those coverages are discussed below.
GL food trailer insurance coverage includes your products (food), your premise (slip and fall), personal injury/advertising injury (libel and slander), and property damage to others.
The best part about this insurance is it also covers the legal fees to defend such claims, even if it's found you were not at fault!
It is smart to have this coverage since we live in a sue crazed world.  Also, it is often required to do business with most landlords, vendors, and commissary kitchens.
Common coverage limits in the industry are 1 million per occurrence, 2 million aggregate (total claims per year).
To read more about general liability for food trailers and food trucks see our blog post:
Food Trailer and contents Property coverage (Inland Marine)
You pour countless hours and money into your food trailer, so you want to make sure your investment is protected!
Property coverage is otherwise known as inland marine (property that moves over land) coverage for your food trailer or other business equipment.
A common mistake we see is owners assuming your auto insurance policy automatically extends coverage to the vehicle pulling it.  Sadly, it doesn't.
To read more about property insurance check out our other blogs:
What is the Value of My Food Truck or Food Trailer?
Auto Liability
For vendors such as food trailers, concession trailers, food carts, pop-up vendors, street vendors, food stands, and catering trailers you will need to speak with your personal auto carrier on if you can keep that policy or if you will need a commercial auto policy.
Either way, you want to make sure you are covered for injury or property damage to others if you cause an accident while driving.
The auto liability applies once you attach the trailer and start moving. Once you park, detach and start operating your mobile food business, the general liability takes over.
Additional Coverages
Other coverages are also available as add-ons.
For example, umbrella insurance is excess coverage above and beyond your limits of general liability or auto liability insurance. This coverage is often required by large contracts.
Food spoilage is another optional coverage that can pay for your spoiled food. However, beware that deductibles are often 500 or more, and many food trailers will hold about equal to the deductible.
One of the best additional coverages in my experience is the loss of business income due to an insurance loss.
Often times, even when you suffer a covered claim from an insurance loss, the resulting loss of income while you repair or replace your trailer.  It will at best be a big hit to your income, or more likely put you out of business.
About Insure My Food
Insure My Food provides insurance coverage for many types of mobile food vendors such food trailers, concession trailers, pop-up vendors, concessionaires, snow cone stands, and more.
We are committed to providing our clients the highest quality insurance service combine with our industry knowledge and experience.
We have the knowledge and insurance carrier partnerships to help make the insurance process affordable and easy!
To request an insurance quote click here or call us at (800) 985-7859