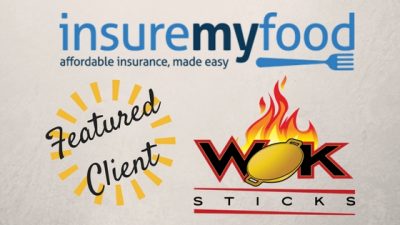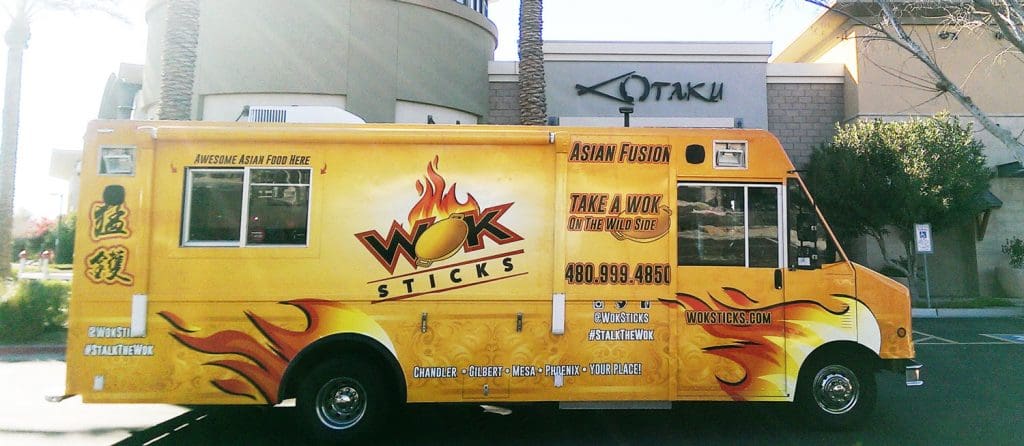 Each month, Insure My Food shines the spotlight on a featured client doing big things in the mobile food industry.  For August, we introduce Wok Sticks. An Asian Fusion food truck based in Gilbert, Arizona that grew out of a brick and mortar location.  Are you a current client interested in contributing to our blog?  Send an email and let us know!
Tell us a little about your truck and how you began…
We've had a successful South Chandler, AZ brick and mortar restaurant, Otaku Sushi, in operation for 6 years. We wanted to find a way to do special events, private parties and catering events more effectively and efficiently. We focus primarily on the central and east valley, but don't be surprised to see us at great events anywhere in the state! Or, at least as far as we can drive without getting distracted by something sparkly 🙂
How did you first go about finding spaces and events to sell around? Any tips for first timers?
We started by looking at events we had attended, going through each one and considering whether or not we would have eaten at a food truck if it were an option. If we said "yes" we added to our potential list.
Describe one of the major successes or memorable moments you've had since opening your truck.
The first time we rolled up to an event and made a dish for a customer's order. It was a great feeling to see something we had put so much time and effort into come to fruition. That and its always amazing to have people pay us to have this much fun! It's a mind blowing experience to be able to do what you love. #micdrop
What is the greatest piece of advice you've either been given or can give to people looking to start in this industry?
Pick the food you want to do, and don't suck at it. Customers will respect and search out good food. You want to be memorable and not by leaving a funny taste in their mouth.
What are some challenges you have as a food truck owner in your area?
Having to remember to put everything you need in the truck before you leave. The second time (or third).
Networking within your territory can sometimes be a challenge – what are some of the best ways you've found to connect with people in your area?
Definitely talk to everyone. Get to know other truck operators and talk to local businesses. You'll be surprised at the interest people have in your truck when you are passionate about what you are doing!
Let's talk about social media presence – where can we find you online?
Everywhere. At least, everywhere that customers can be found! We have Facebook, Instagram, and Twitter and an upcoming mobile app launch. #stalkthewok and keep up with the latest fun from your new favorite party on wheels!