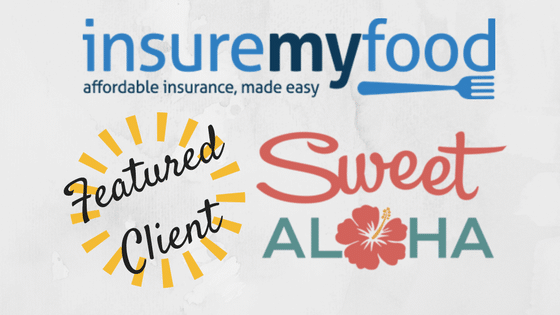 Each month, Insure My Food shines the spotlight on a featured client doing big things in the mobile food industry.  For June, we introduce Sweet Aloha, LLC based in Royersford, PA. Janeen and Bryan Algeo brought a whole new cuisine to the Philly burbs! Are you a current client interested in contributing to our blog?  Send an email and let us know!
Tell us a little about your truck and how you began.
Back in the winter of 15/16, we took a trip to to the Hawaiian Islands and fell in love with the culture and cuisine. The whole Aloha lifestyle, a way of living and treating each other with love and respect was so intriguing to us and we wanted to bring a piece of it back east with us to share with others. We tried to build our brand on just that, giving people the Hawaiian feel in Pennsylvania, and what better way to do that than through the Hawaiian cuisine! We also saw a need to give people a healthy, nutritious, but tasty alternative on the run to promote a healthy lifestyle through healthy eating. These two things paired great together and that is how we came up with the name "Sweet Aloha."
To develop our menu we visited every Acai/ Smoothie bar we could find from Hawaii to Southern Cali to New York City! We looked at how they made their bowls and developed our recipes with the best taste in mind. We decided to start our adventure in April of 2017 and we operate in Montgomery County, Pennsylvania in and around the Limerick/Collegeville/Pottstown/King of Prussia areas.
How did you first go about finding spaces and events to sell around? Do you have any tips for first timers?
We basically started by going to some of our friends gyms and selling there. From there it spread by word of mouth, Facebook and Instagram. Social Media is a great way to get your name out there but ultimately it came down to great family and friends (which is our "Ohana" Hawaiian for family) to help us get it out there.
Describe one of the major successes or memorable moments you've had since opening your trailer.
We have memorable moments every day we are out. When we here the responses and see everyone enjoying what they are tasting (most for the first time) it means so much to us that we are able to give people a great product at a great price.
What is the greatest piece of advice you've either been given or can give to people looking to start in this industry?
Make sure you are thorough when exploring the guidelines for the Health Department and County.
What are some challenges you have as a food truck owner in your area?
The biggest challenge for us we educating the public on our product. Acai and Pitaya are new to the area although they have been around forever in Hawaii and So Cal. They are starting to catch on now in the shore points in the east.
Networking within your territory can sometimes be a challenge – what are some of the best ways you've found to connect with people in your area?
Facebook and Instagram are are great resources to reach people in any area!
Let's talk about social media presence – where can we find you online?
We are on Instagram and Facebook. Our website has menu and other information. Facebook and Instagram work best for us.