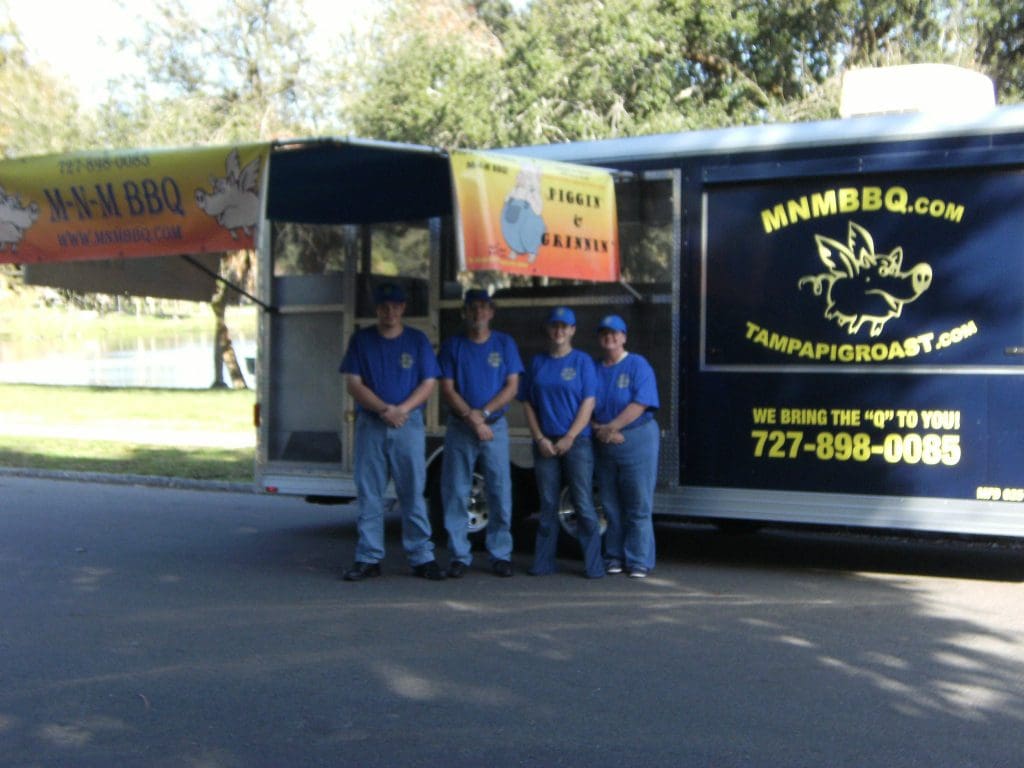 Each month, Insure My Food shines the spotlight on a featured client doing big things in the mobile food industry.  For March, we introduce M-N-M BBQ/Tampa Pig Roast based in St. Petersburg, Florida.  Are you a current client interested in contributing to our blog?  Send an email and let us know!
Tell us a little about your truck and how you began.
We have been operating in great Tampa Bay area since 2001! We got started as our owner had a love of slow smoked foods, and initially had a lot of success with fresh markets and some festivals. Since then our business has expanded to catering events including weddings, family reunions, and large corporate functions. Some of the best chef's in the area trust us with their BBQ needs, and we are proud to partner up with them. After 15 years in business we are using our mobile success to open our first restaurant.
How did you first go about finding spaces and events to sell around? Do you have any tips for first timers?
Our area has experienced an explosion of mobile vendors in the past 5-6 years. We prefer fresh markets, catering, and a limited amount of corporate lunch time food truck events. Promoters also offer opportunities. We prefer to work with our food truck association Gulf To Bay Food Truck Association.
Describe one of the major successes or memorable moments you've had since opening your trailer.
Serving large events of over 1,000 guests. Truly a challenge, and one we have met well!

What is the greatest piece of advice you've either been given or can give to people looking to start in this industry?
Do your homework, and pick something unique! When we first started there were some mobile BBQ outfits in our area, none that operated like we do. Since then we have added 12-15 licensed mobiles and dozens of bandits also doing BBQ. I followed my passion for the foods we do, and that shows in our longevity and success. BBQ might not be a viable choice today starting over again as someone new.
What are some challenges you have as a food truck owner in your area?
The industry has changed, we have a lot of trucks.
Networking within your territory can sometimes be a challenge – what are some of the best ways you've found to connect with people in your area?
Social media helps and is a relatively recent phenomenon. When we first stated that wasn't available. Word of mouth is always a best bet, but that takes time to establish
Let's talk about social media presence – where can we find you online?
We have a Facebook page at Tampa Pig Roast and M-N-M BBQ. People respond best to posts with pictures and interest stories. We also have a website www.tampapigroast.com.