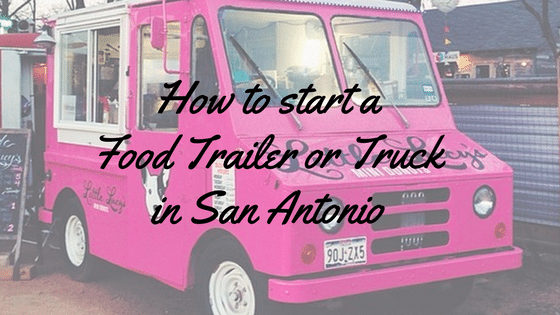 So you've decided that you are going to open up a food trailer or food truck in San Antonio. Congratulations! We have created a basic outline to help you with the necessary steps needed to open up your business. Although the outline is intended specifically for mobile food vendors in San Antonio, TX, the process and regulations are often similar in different cities and states. You can use this outline for starting either a food truck or food trailer.


Step 1: Filing a Limited Liability Company For Your Food Trailer
It is very common for foodservice businesses to form an LLC. You can find out more info here.
---

Step 2: Texas Sales and Use Tax Permit
Before you can receive your Mobile Food Vendor Permit you will need to have a Texas Sales and Use Tax Permit. You can find out more information here.
---

Step 3: Do Your Research and Join the SAFTA
The San Antonio Food Truck Association is a coalition of trucks working together for the betterment of the mobile food community. Look into joining and also look for owners who may be willing to mentor you or share their experience working within city limits.
Also, the City of San Antonio has a helpful page on gathering the items you'll need for your mobile vending business by category. Current regulations for the city are also listed here.
---

Step 4: Buying a Food Trailer or Food Truck
Although you may be able to find good deals on Craigslist for used food trailers or food trucks, there are also many great food trailers and food truck builders in Texas! One benefit of buying a newly manufactured food trailer is that the builders are usually knowledgeable about requirements to pass a City of San Antonio Health and Fire Inspection. You will also have peace of mind knowing that all of your equipment is new and not damaged or aging.
Here are a few Texas builders to consider:
---
Step 5: Buying Insurance for Your Food Trailer or Food Truck
We recommend purchasing $1,000,000 worth of liability insurance and property coverage on your food trailer or food truck as soon as you purchase so that you are immediately protected from accidents or theft. We have two helpful blogs that dive deeper into your coverage options:
What type of insurance does my food trailer need?
All you need to know about food truck insurance coverage
With a food truck, you will also need commercial auto insurance before you drive the truck on public roads.We can help here! Get a quote for your food trailer or truck
TIP: Many landlords require you to have $1,000,000 worth of general liability insurance before they will let you sell food on their property.

---
Step 6: Registering Your Food Trailer or Food Truck with the DMV
Before you can apply for a Mobile Food Vendor Permit, you will need to register your trailer with the Texas Department of Motor Vehicles here.
---
Step 7: Get Your Food Managers Certification For Your Food Truck
In order to pass your health inspection, you will need your Food Managers Certification displayed inside of your food trailer. You can find out more information and testing options here.
TIP: We suggest paying a bit extra to have your Food Managers Certification stay valid for 5 years because the class takes a full workday day to complete.
---
Step 8: Get Your Background Check
Request your background check at SAPD Records Unit at 214 W. Nueva (8 am – 4 pm.) The fees for local, state and national background checks are $59.25, only cash or money orders are accepted as payment. You will receive a response BY MAIL after the local and DPS background checks are completed (4 – 6 weeks.) This statement will remain valid for 90 days from the issue date.
---
Step 9: Set Your Appointment for Inspection
This is the packet that you will need to submit to the Health Department before they will inspect your food trailer or food truck and issue you a Mobile Food Vendor Permit. Mobile Vending inspections are done on Tuesdays and Thursdays by appointment. Appointments may be made by calling 210-207-8853. Inspections will be conducted at a site designated by the vendor (must be in City of San Antonio limits and not residential property).
The city breaks down specific requirements by operation, which is helpful when preparing for your inspection.
For a complete list of all mobile vending regulations, refer to City of San Antonio Ordinance Chapter 13.
---
Finding A Central Prep Facility
In order to pass inspection, you must find a Central Prep Facility to use. Many food trailers and food trucks use their CPF strictly to dump grey water, get fresh water, and dump grease.
There are currently seven approved commissaries in San Antonio that can issue Notarized Commissary Letters that will be honored by San Antonio Metro Health. Those facilities are listed:
Alamo Kitchens – 11825 West Ave, Ste 102, San Antonio, Texas 78216
The Co-Op SA- 11911 Crosswinds Way #305 San Antonio, TX 78233
Local Sprout Food Hub – 503 Chestnut Street, San Antonio, TX, 78202
B & S Mobile Catering and Vending Supplies · 2805 Commercial Ave 78221 · 210.924.5323
Best Foods of San Antonio · 5312 Rittiman Road 78218 · 210.662.7204
Pinky's Shaved Ice · 1301 E. Elmira St. 78212· 210.385.6209
Myrna's Catering · 161 Ward Ave. 78223 · 210.609.8585
TBS Foods · 1910 Arvie 78253 · 210.767.2222
Potranco Commissary · 12135 FM 1957 / 78253 · 210.858.8124
Cheesy Jane's · 4200 Broadway @Hildebrand 78209 · 210.826.0800
Mission Trail Mobile Vendor, Waste Management & Services · 3500 Orkney Ave 78223 · 210.928.8285
---
Passing Your Fire Inspection
---
Step 10: Get Ready to Hit The Road
Congratulations on passing your inspection and getting your clearances! You are now ready to roll. Be sure to check out the City of San Antonio's website for all regulations that need to be followed.
TIP: Mobile vendors in residential areas can only operate from 7 am to one half-hour after sunset. In the months of June, July, and August, those units may extend their hours of operation to 10 pm.
---
Helpful Links
Propane Delivery Companies:
Grey Water and Grease Removal Companies:
Texas Disposal To have greywater removed from your trailer OR portable restroom servicing
Diesel Green Fuels To recycle used cooking oil
Kitchen Towel/Laundry Delivery Companies:
---


Insure My Food was designed by an insurance agency that gets food trailers and food trucks
We understand the challenges and needs of your business and are committed to supporting the mobile food community.
Not only do we offer food trailer and food truck insurance in almost every state, we insure many types of mobile food vendors including concession trailers, food carts, pop-up vendors, street vendors, food stands, and catering trailers.
Contact Us for a free, no-obligation quote or if you have any further questions.  From our small business to yours, we're here to help you succeed!