You have poured countless hours and money into getting your mobile food business off the ground, and you want to make sure your investment is protected, right?  The first question we will ask you is "What is your food trailer or food truck value and what do you want it insured for?"
…crickets! What a loaded question! Let's dive into how to find the appropriate food trailer or food truck value for you.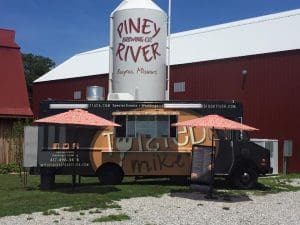 Step one:
To determine what you should insure your food trailer or truck for, you need to know a little insurance lingo in determining your food truck value.
Insurance companies pay property claims two main ways:
1) Actual cash value (ACV) covers your property at the current market value. Meaning what the property worth is today.  This takes into consideration the age, condition, and "useful life" left. This is how most insurance companies cover vehicles, trailers, and equipment.
2) Replacement cost (RC) covers your property to buy brand new like kind and quality regardless of age and condition. This coverage is typically only offered on buildings and their contents.
Step two:
Now that you understand how insurance companies value food truck and trailer property at actual cash value, we have a target in mind.
Below is a formula to get you closer.
What you paid for the trailer/truck + What you invested after you bought it (Labor and Parts) = The value.
I know you are saying right about now I did most of the work! However, you do need to add this "labor cost" into the calculation.
To get more comfortable with the value you calculated above; it helps to look on eBay.  You can also look at a truck for sale sites such as Used Vending or Roaming Hunger's Directory of Trucks for sale.
Ross of Ross RV and Food Carts has also offered to help if you want to discuss with him.
Step three:
Now is not the time to round down to the value of your truck or trailer.  Insurance companies require you to insure to value.  If you don't, you can be subject to coinsurance penalties, come claim time and nobody is into that!
For example, if your trailer is valued at $35,000, but you only insured it for $20,000. The insurance company will only pay 57% of the claim because you only insured 57% of the value. Ouch!
The reason insurance companies take insuring to value so seriously is without this constant, there is no way to accurately rate insurance cost.
We hope this helps you as you are determining your food truck or food trailer value.  As always, we are happy to answer any questions you have in this process.  Give Joel a call at (800) 985-7859 or shoot an email to info@insuremyfood.com.  With over a decade of experience as a Certified Insurance Counselor, he has seen it all!